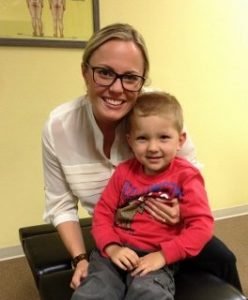 Treatments eliminated need for speech therapy.
Just before starting care at Family First Chiropractic, Owen went for a speech evaluation and it was determined that he would need intensive speech therapy. Additionally, Owen was having trouble eating, was waking up multiple times during the night, and had poor focus. His mother also noticed a limp when he would run and play.
Being a nurse, his mom knew the importance of the nervous system and wanted to explore whether chiropractic care could help him with these problems before proceeding with the speech therapy.
We are happy to say that, after only a few adjustments, Owen has dramatically improved in that he is verbally communicating with his family and is sleeping through the night!
At his first re-exam one month after starting care, Owen's mother was happy to report he went for a second evaluation to the speech therapist and it was determined that he no longer needed speech therapy! He is eating consistently, sleeping through the night, his ability to focus on tasks has improved tremendously, and his limp has gone away!
His mom said she feels he still has improvements to make but is excited about the huge progress he has made in such a short time! She recently said "I feel like I am watching Owen develop a new personality and become much happier".
This is why we do what we do!! We are so excited to facilitate positive changes, not only in a child's daily life but in their family's peace of mind! Impacting not only Owen's life, but seeing the joy in his mom's eyes when he shouts out: "Goodbye Dr. Dawn. Thank you!"
READY TO START YOUR
HEALING JOURNEY?
Contact us today to schedule your free consultation!